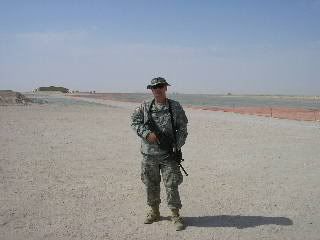 When I checked email this morning there was a pic of the Soldier Son in the desert. He tells me that with the sand, heat and strong breeze he keeps expecting to see the ocean, but it's not there. No ocean, just sand. HA!
It has to be hot in that uniform …..
~*~*~*~*~*~*~*~*~*~*~*~*~*~*~

Speaking of sand and weather – Jo finds rain in Afghanistan!
~*~*~*~*~*~*~*~*~*~*~*~*~*~*~
So What's Everybody Talking About?
September 1 – 4, 2006
Just link and trackback to this post. Nothing to it but to do it.
~*~*~*~*~*~*~*~*~*~*~*~*~*~*~*~*~*~*~*~*~*~*~*~
Others with open trackbacks: The Pirate's Cove, Woman Honor Thyself, Basil's Blog, bRight & Early, Conservative Cat, Rightwing Nation, Third World County, TMH's Bacon Bits, Stuck on Stupid, The Dumb Ox, Jo's Cafe, Robinik, The Median Sib, Stop the ACLU, Argghhh!
Disclaimer: trackbacks to this post do not necessarily represent the opinions or standards of the Blue Star Chronicles.
Please check out the posts linked below ~~~~~