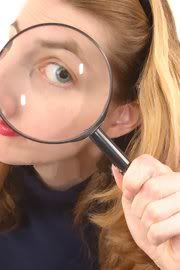 I've been a little blogless lately. No one would be particularly interested as to why – BUT – real life has just interfered with me being on the computer that much. I hate it in a way cause there are some things I've been missing out on.
I went in with The Median Sib and am part owner of Thursday Thirteen. WHAT WAS I THINKING!!! As if I don't already have too much to do.
It's been a lot of fun though and I'm really excited about it. It's the original blog meme and has a huge following. Are you a member? If not, why not?
You can seriously increase your linkage and your blog traffic by participating. Not to mention, meet a lot of new and interesting people and learn a lot of new things. I have learned so much just reading the Thursday Thirteen posts. Who knew that TT'ing could be so enlightening!!!
Then there is the Sunday Seven that I haven't kept up with. It's similar to Thursday Thirteen but a little different. It's very worth participating in and is growing weekly.
I've also been absentee on Ms. Lifecruisers CYBER CRUISE!! I've barely been there. They were in Oslo last night. Today the cruisers are in Waterloo, Belgium. How cool is that!!??!!??
Gattina is giving a FANTASTIC tour of Waterloo! She tells a little bit of the history, but mostly she has pictures of interesting places around Waterloo and tells about life in Waterloo. It's a very interesting stop on the cruise. And this is just day 3!
Word is, so far, there haven't been an pirates along!!!
I can't open blogger comments … that's just a random thought that came into my head cause I just tried to comment on a blogger blog. Is anyone else having that trouble? It's been going on for a while now. They just flat out won't open for me!
Related to that – it takes FOREVER for a blogger blog to open. WHAT is WITH THAT? Is something going on with Blogger?
I also changed my template. I was getting a lot of people telling me they were having trouble commenting on the other template I had. I didn't want to change cause I liked that template. It had a lot of features I liked – but if people were getting knocked off the blog and couldn't comment, it had to go. So here is a new one. Hopefully, it won't knock people off and will let people comment. The ads seem a little overwhelming to me, but whatever, click on them! What does a click cost ya anyway!
?:-)
Taking a look at what's going on from my blogroll ….
Over at MoreWhat.com they are suggesting that we enforce our immigration laws!! What a notion that is!!!
I love William Teach's dumpster diving. Someone has to do it and he seems like the perfect person to do it. Who can mess with William Teach, after all!!! He's been running a series on the liberal take on the Constitution. This week he is delving into the liberal version of the 3rd and 4th amendments! It's a MUST READ! Find it at The Pirate's Cove.
()-)
Larry at My Vast Right Wing Conspiracy is retiring from the Marine Corp.
I'm so sorry for your loss John and Beth. Eulogy here.
Tammy, A Mom and Her Blog, had a really rough day.
Disclaimer: trackbacks to this post do not necessarily represent the opinions or standards of the Blue Star Chronicles.
More great posts trackbacked below …