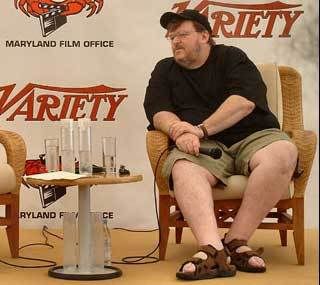 Propagandist Michael Moore has pulled another publicity stunt. This has happened, coincidentally, just prior to the release of his latest piece of propaganda, what the film industry refers to as a 'documentary'.
Bottom line is he went to Cuba, taking 10 rescue workers who have become ill following their heroic efforts at the World Trade Center following 9/11. He did this without filing the proper paperwork with whatever department one is supposed to file that sort of paperwork with. His people say he was aware of the travel restrictions involved in traveling to Cuba. It's not like these restrictions are a new thing. They were put into place in the 1960s by the John F. Kennedy administration.
Moore flaunted the laws of the land as many are want to do who have egos so large that they are rivaled only by their sense of entitlement. He is Michael Moore after all. It's not like he should be subject to the law like the rest of us. Besides, the consequence for violating that particular law is just a fine and he's worth hundreds of millions. Having to pay a few thousand dollars is pocket change for him. It's also very cheap publicity for his film.
His film is apparently what he calls a documentary about how horrible the American health care system is and how Cuba's health care system is superior to ours. This should be obvious to everyone seeing as how people from other countries come here for their health care. Not to mention that Castro himself flew in Spanish doctors to try to cure his …. what looks for all the world to be colon cancer.
That makes me wonder …. do you think that Michael Moore and his entourage saw the health care that is available for the average Cuban or do you think they saw the health care that is available for Castro and friends? Just wondering.
Now Michael is declaring the the American government is out to get him because of his propaganda film about 9/11. I have no idea why the government waited this long to 'get him' or why the government is getting him and not all the other 'truthers' ranting and raving all over the place. But hey, if he wants to think the government is out to get him that's his business.
He claims to be so frightened of our government that he has secreted a copy of his latest film (which just happens to be coming out soon) in an undisclosed location out of the country. I'm sure it's such an important piece of …. err …. work …. that he must protect it at all costs.
Oh my. Isn't this dramatic.
Well, since he was so brave to return to the United States, a country that we all know suppresses free speech (rolleyes), now everyone is hearing about his film that no one had heard of before.
Ah, if only he had gone to Cuba and just stayed there. He obviously would have been much happier there as he makes it quite clear that he feels Cuba is superior in most every way to the United States. He could have avoided the danger of returning to the United States by staying there and I'm sure Castro's government would be very supportive of whatever propaganda films he wanted to edit about their country. I'm sure Castro doesn't (didn't?) fine people for sedition or speaking about him in a derogatory manner. I'm sure of it. I have heard he only has people shot for that sort of thing.
Ah, if only Moore had gone to Cuba and just stayed there.
~~~~~~~~~~~~~~~~~~~~~~~~~
Others with open trackback posts: Outside the Beltway, Perri Nelson's Website, The Random Yak, Right Truth, Stuck On Stupid, The Amboy Times, Cao's Blog, The Bullwinkle Blog, Leaning Straight Up, The Florida Masochist, Jo's Cafe, Conservative Cat, Pursuing Holiness, Diary of the Mad Pigeon, Rightlinx, third world county, Woman Honor Thyself, The Crazy Rants of Samantha Burns, stikNstein… has no mercy, The World According to Carl, Pirate's Cove, Dumb Ox Daily News, High Desert Wanderer, Right Voices, The Yankee Sailor, and Gone Hollywood, thanks to Linkfest Haven Deluxe.
Disclaimer: trackbacks to this post do not necessarily represent the opinions or standards of the Blue Star Chronicles.
More great posts trackbacked below …