In honor and memory of those who have given all in service to our country.
In the spring of 1868 John Logan, Commander-In-Chief of the Grand Army of the Republic (GAR), a Union veterans organization, designated May 30th as a memorial day "for the purpose of strewing with flowers or otherwise decorating the graves of comrades who died in defense of their country during the late rebellion, and whose bodies now lie in almost every city, village, and hamlet churchyard in the land." ~ MG John Logan
A couple of groups of Southerners held Memorial Day services as early as 1866, in honor of their fallen. These are just a few of the several versions of how Memorial Day started.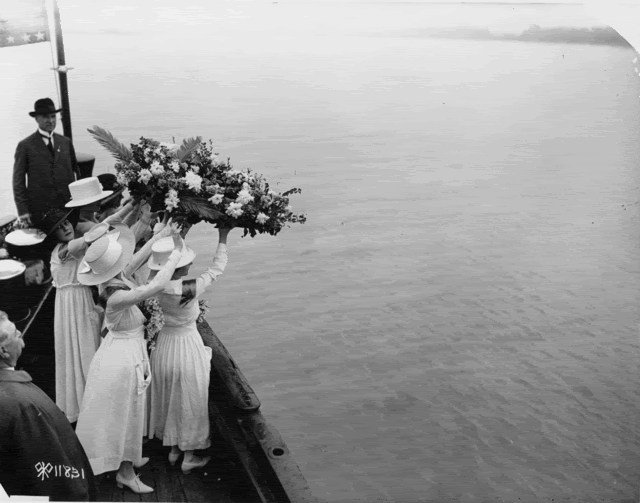 On May 30, 1918, Memorial Day services in Washington, D.C., culminated with
casting flowers into the Potomac River in memory of those who perished on the Lusitania.
The Pirate's Cove offers his usual Sunday Pin-ups in along with some Memorial Day history, a round-up of Memorial Day posts and a beautiful poem. Definitely worth clicking through to check it out.
Texas Fred explains the difference between Memorial Day, Veterans Day and Armed Forces Day.
My Vast Right Wing Conspiracy has a post up with links to and a video of the National Memorial Day Concert. I love that concert!!
Woman Honor Thyself has posted some beautiful Memorial Day pictures and quotes.
The PC Free Zone is covering the Rolling Thunder Memorial Day Weekend.
Hillbilly White Trash draws special attention to a Memorial Day Day by Day cartoon.
Wide Awake Cafe writes about the first Memorial Day that hurt.

Maggie's Notebook takes an interesting journey into the absurd and disrespectful on this Memorial Day. As with all things, it's important to keep in touch with all sides of any issues.
A Flyover Blog has a Memorial Day Reminder.
Something …. and Half of Something has done a wonderful round-up of Cotillion Memorial Day posts. Linda also has a beautiful tribute of her own here.
Cozy Reader remembers those who are grieving today.
~~~~~~~~~~~~~~~~~~~~~~~~~
Memorial Day open posts: Outside the Beltway, The Virtuous Republic, DeMediacratic Nation, Big Dog's Weblog, On the Horizon, the so called me, Webloggin, Leaning Straight Up, Cao's Blog, Pursuing Holiness, Blue Collar Muse, Diary of the Mad Pigeon, Allie Is Wired, stikNstein… has no mercy, Maggie's Notebook, Gulf Coast Hurricane Tracker, Dumb Ox Daily News, and Gone Hollywood, thanks to Linkfest Haven Deluxe.
Disclaimer: trackbacks to this post do not necessarily represent the opinions or standards of the Blue Star Chronicles.
More great posts trackbacked below …