I saw these pictures associated with an AP story about the Monday homicide bombing in an Iraq market. I thought the pictures were very telling.
The pictures reminded me of what I have read and heard about the final days of the European theater of World War II. When the Germans were defeated and trapped between the Russians and the British and Americans they attempted to surrender to the Americans and Brits rather than to the Russians. If you think about it a minute, it is obvious why they would prefer to be captured by the Americans and British.
In spite of the propaganda spewed out by our own news outlets that Americans are occupiers and bullies the world really knows that's not true. Even when our own Senators call our Troops 'cold blooded killers', the world knows that's not true.
The 'progressives' in our own country seem to be the only ones with such a low opinion of our countrymen. And, Nancy Pelosi seems to be the only one who doesn't realize that al-Qaeda is fighting us in Iraq, and all over the world.
When the bomb went off in the market, the little boy in these pictures knew where he would be safe. He wasn't afraid of this Soldier. He instinctively knew the American Soldier would protect him.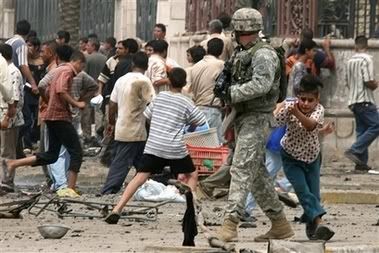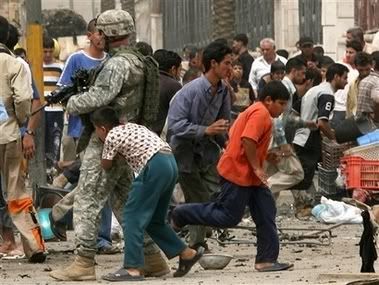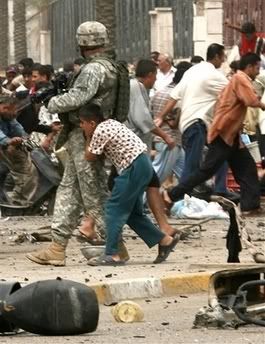 A young boy seeks shelter behind a soldier with the U.S. Army's 82nd Airborne division after gunshots rang out at the scene where just a few minutes earlier a suicide car bomber blew himself up in a busy commercial district in central Baghdad on Monday, May 28, 2007, killing at least 21 people and wounding 66, police and hospital officials said. (AP Photo/Khalid Mohammed )
~~~~~~~~~~~~~~~~~~~~~~~~~
Disclaimer: trackbacks to this post do not necessarily represent the opinions or standards of the Blue Star Chronicles.
More great posts trackbacked below …