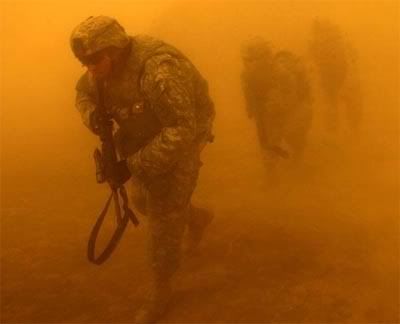 Pushing through a storm in Iraq
I've spent a lot of time reading about the 'Scott Thomas' affair. 'Scott Thomas' is the pseudonym taken by a Soldier in Iraq who is weaving tall tales about their adventures there. As the mother of a Soldier serving in Iraq, I find myself glued to the stories and reading everything I can find written about it.
That may seem odd and it probably is, but there are two things that keep me awake at night while my son is in Baghdad. One is the obvious worry about his safety. That's the worry every mother of every son who has ever gone to war has in her heart. The other is that he not be subjected to the being used for propaganda purposes by whatever enemy wants to use him, his unit, his company or whatever. I believe that is a worry that has taken on a whole new meaning in this war.
With the 24/7 scrutiny that our Troops are subjected too, even the smallest of things can be blown out of proportion and used by the enemy, the MSM or Congressmen who have their own agendas.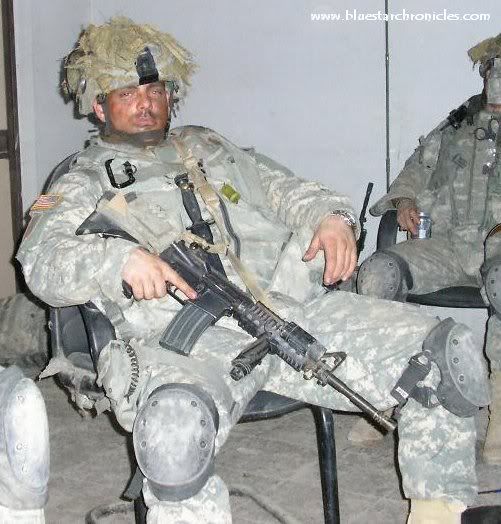 There are constant feeds of information and numerous enemies all too anxious to use it for their own purposes. The military or their civilian commanders seem to take every accusation, no matter how implausible, and treat it with an enormous over abundance of caution. Instead of standing up to the public and saying, 'This is war, get over it.' They take each situation and confine the military men/women involved – for years if necessary – and then go to the extreme to get to the bottom of the accusations. Only a few have been found to have committed wrong doing (which, by the way, speaks to the discipline and professionalism of our military). All of these factors leave our Troops vulnerable from all sides. I can't speak for other mother's of Soldiers, but for me, the idea of my son ending up in a situation like the Pendleton 8 is an absolute nightmare.
There are plenty of people on the internet taking apart Scott Thomas' stories. I read on Hot Air earlier today that he suspects 'Scott Thomas' to be a Walter Mitty and that made sense to me. Since this whole story started I have imagined a young soldier writing stories to entertain himself and maybe his buddies, probably having ideas of making money off a book, or just for fun. I've imagined that he probably had no idea the stories would come back to bite him. As they say, 'Loose Lips …', the stories will certainly come back to bite him. Now that his superior officers are responding to the stories, I suspect he is laying low and hoping it blows over. I like to think that he is not actively trying to undermine his unit and company. I like to think he's just a kid who has too much time on his hands and likes to weave tall tales. Time will tell.
The problem is the MSM is taking the story and running with it. They are using the stories 'Scott Thomas' has written as a propaganda tool. These stories are being used as part of the transformation of our Men at Arms from heroes to villains.
As the mother of a Soldier currently serving in Baghdad, that is frightening to me. It is my hope that the stories are proved wrong before the military or civilian leaders decide they have to take action against the men of FOB Falcon to prove to the public that they don't stand for this sort of thing. We already know that about our Soldiers, we don't need them to prove it. We need them to let them be Warriors.
I'm vicariously a little bit familiar with FOB Falcon. I know that the men there have had a very rough time of it. I know they are in a very violent and dangerous place. I know that FOB is not one of the FOBs we see pictures of or that dignitaries visit. It's too dangerous. It's not comfortable. They don't have swimming pools or palm trees like some of the FOBs. They only have running water a couple of hours a day. They are mortared every day and every night. They have sand bags over their windows. They watch al-Qaeda plant IEDs from their towers at night and have to go out in the day and remove the newly planted IEDs and hope they get them all. Whenever they go out on patrol, al-Qaeda and Iranian operatives take pot shots at them. The sewage system in the surrounding neighborhood just runs raw sewage down the streets. Piles of garbage line the streets and wild dogs follow them in packs every where they go.
As the Officer wrote in the email I published yesterday.
Every man in the service today is there because he volunteered. They stood up in the face of danger, knowing we were at war, and said "I'll go".
The men on these FOBs know that when they go out on patrol they will be shot at and possibly hit IEDs. It's untenable that they also have to worry that their careers, reputations and freedom could be taken away from them because of rumors, accusations or the whim of a reporter or Congressman.
The politics of war are bad enough without adding this new dimension to it. These are the ones who are willing to go where most of our population won't go. They are the ones that will stand up, take the oath, and do whatever is necessary to protect and defend our country and way of life. They deserve much more from us than this.
~~~~~~~~~~~~~~~~~~~~~~~~~~~
My previous post on this:
You can read much more about how the Scott Thomas case is falling apart on these blogs: The Florida Masochist, Villainous Company (and here), Argghhh!, A Blog for All, Hot Air, Ed Driscoll, Michelle Malkin, Blackfive, Amy Proctor