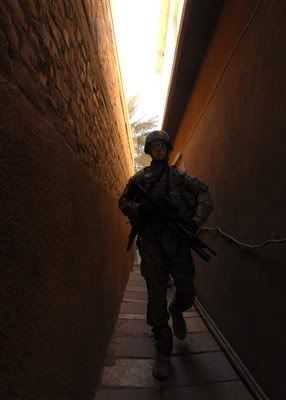 U.S. Army Sgt. Gabriel Steel moves down a narrow alley to search the backyard of a house during a security patrol in Saydiyah, Iraq, on Dec. 29, 2007. Steel is attached to the Army's 4th Battalion, 64th Armor Regiment. DoD photo by Petty Officer 2nd Class Greg Pierot, U.S. Navy.
~~~~~~~~~~~~~~~~~~~~~~~~~~~~
Some links of interest …..
The Median Sib – Dr. Phil pimps his show for Brittney Spears interview
Planck's Constant – Canada Prepares for Muslim Takeover
My Vast Right Wing Conspiracy – Fox News Republican Forum Debate
Right Celebrity – Cindy McCain Is John McCain's Wife
McCain Blogette – Keeping it real in New Hampshire
Alabama Improper – Cha Cha Cha Cha Changes
Right Wing News – The Twenty Most Annoying Liberals In The United States: The 2007 Edition
Conservative Princess – Has the Political Arena Turned into Romper Room?
Hooah Wife and Friends – Soldiers Angels Web Surfing
Mary Katherine Ham – Iron My Shirt
Something …. and Half of Something – Islamotard Rumor of the Day
Yeah, Right Whatever – I Guess She Would Know, eh?
Villainous Company – Coffee Snorters: Young Love Edition
The Pirate's Cove – America's 'Savior' Gets Dissed
Wake up America – Drudge Dreaming About Hillary
Outside the Beltway – John McCain's Gentleman's Agreement with the Press
Don't Ever Put Down The Pen! – A Soldier's Story: Sgt. John Fuller
This That and Frog Hair – Martha Stewart For Rednecks
Flopping Aces – Updated List of Fred Thompson Supporters
Pirates! Man Your Women – Camouflage
Matt Sanchez – Military Idols
An Ol' Broad's Ramblings – What They Mean By "Change"
Gribbit's World – Crocodile Tears, Security Ignorance, and "Change"
~~~~~~~~~~~~~~~~~~~~~~~~~~~~
Disclaimer: trackbacks to this post do not necessarily represent the opinions or standards of the Blue Star Chronicles.
More great posts trackbacked below …