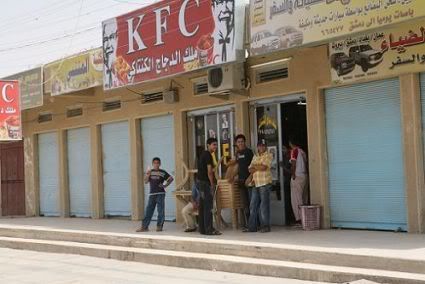 Kentucky Fried Chicken – Iraq
You know there's real progress being made in the Battle of Iraq when American fast food restaurants start opening there.
Only a short time ago the city of Fallujah served as stronghold for insurgents. Daily skirmishes, improvised explosive device detonations and public unease made operating a business in the city very difficult.

Today, with improved security throughout the region, the low price of 4,000 dinar, or $3.50, will purchase a full meal at the recently established Kentucky Fried Chicken in the Hey Al Dubat area of the city.

The KFC is the first to open for business in the city. Before improved conditions in the city, insurgents threatened business owners, demanding money to support acts of terrorism.
You read that right. Kentucky Fried Chicken has opened up in Fallujah. Capitalism and crispy fried chicken are winning the hearts and minds of the people.
Citizens of the area can now work steady jobs, where as prior conditions kept many from even coming to work on a daily basis.

"I love the work here, because we have the opportunity to go to work every day," said a KFC employee.